March 2020. Show opened and was closed after a week due to the world wide pandemic and lockdown of gallery spaces. More pictures can be found @fairlightstablestudios on Instagram and @ryeartists.
Large Clay Dish. Green Havoc. Thanks to painters, poets and walkers, Ken Townsend, Fiona Benson, Diana Low, Sylvia Gosse, Ivon Hitchens, Denise Franklin.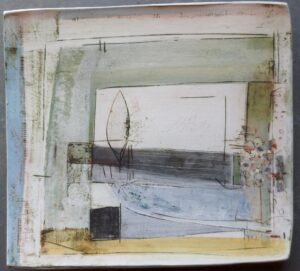 Rye Art Gallery – March 2020. Response to the permanent collection. Working with curator Julian Day.